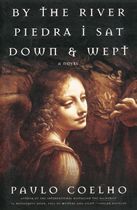 I read
By the River Piedra I Sat Down and Wept
this week. Well, technically, I read it Sunday and Monday, but that's not the point. There really is no point. I don't so much want to write about
By the River
as I want to just write about reading.
It's been a while since I've read a Paulo Coelho book. My oldest sister sent me
The Alchemist
for my birthday when I was a freshman in college. I took it with me to band practice that day because I never go anywhere without a book (who knows when you'll need one), and when band practice ended up being cancelled, I detoured to the library and curled up on one of the top floor couches and read the entire thing. There was something utterly freeing about being by myself and doing what I wanted to do on my birthday. No one knew where I was. No one was trying to celebrate with me. No one was being exuberant. It was just peaceful. And I loved the book. It's on my favourite book list still (seriously), and even though there was a lot I didn't agree with in
The Alchemist
, I found a few nuggets of truth that have stuck with me.
So I picked up
By the River Piedra
at the library and read the first 85 pages while I was out walking with the Little Man, and the last 95 pages while the Big Man was at the gym last night (and he looked
good
when he got home). I do love Coelho's writing, but I wonder if I would enjoy it more if he didn't spend most of his books touting his particular brand of universalist humanism. Hmm, I think yes... But the point is that there was something refreshing Sunday about reading as I walked with the wind blowing past me and thoughts of winter coming. And there was something incredibly restful about lying on the couch last night with my book and a blanket and the cat curled up at my feet. Because sometimes it's just good to escape into someone else's story for a little while, even if you truly love the one you've been given. And at the end of the night, you close the book and welcome life back home in the form of a loving husband and a nursing baby and the sound of autumn tapping on your window.